Archives: Design Showcase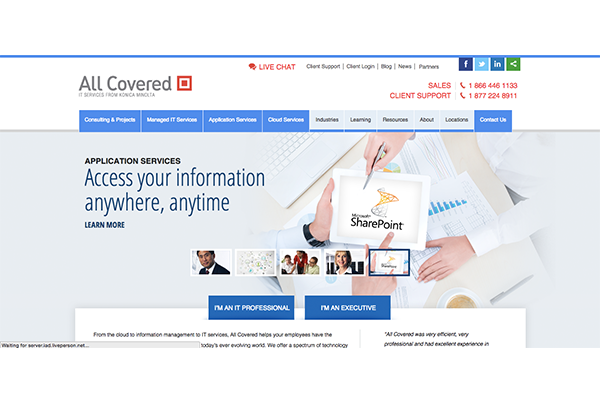 The Client
All Covered is the nation's leading provider of computer network services and technology solutions for small businesses—delivering cost effective IT services such as IT Security, VOIP, Mobile Technologies, IT Consulting and more.
The Challenge
Allcovered.com sought SEOP's help in improving rankings on the more competitive keywords terms and geo target specific cities for "IT support" and "IT services". These keywords have over 500 million search results each. When they came to SEOP, The Client ranked at position #44 for "IT support" and at #37 for "IT services."
The Plan
Increase overall keyword rankings through implementation of keyword specific mapping of pages on the website.
The Result
Through the development and utilization of the above strategy and additional items, the following goals were met:
Started with SEOP at position 44 for "IT support' now is page 1, position 1 out of 1.3 billion results.
"IT services" started at position 37, currently #3 out of 523 million results
All Covered is also on page one in all of their major cities geo-targeting the term "it support".
Started the campaign in Oct 08 with around 7k unique visitors and as of last month is up to 11k unique visitors.
Archives: Design Showcase
The Client
Cosmeticinstitute.org is the main website for the Institute of Cosmetic and Reconstructive Surgery (ICRS). At the Institute of Cosmetic and Reconstructive Surgery, they believe that it is natural for you to want to look your best and feel good about yourself. By enhancing what nature has given you, you can feel better about the way you look; and feeling better means achieving the life you have always known was possible.
The Challenge
ICRS was experiencing slow business and was not seeing rankings increase on main keywords. They had worked with a previous SEO company and were not happy with the results, leading to them seeking a new company to help grow the business. They had very specific goals in line and wanted to grow the business as a whole—"SEOP helped us with our ranking with Google. They had created the implements that were needed to help us be at the top of the list. Advised us what we were doing right and what we needed to do. Being that there is so much competition within this area alone we definitely had a lot on our plate. SEOP was able to establish a list of top ranking key words for us. With competitors surrounding us from all directions; we needed our ranking to be at the top of the list."
The Plan
SEOP wanted to help grow The Client's business by focusing on what was truly needed. SEOP provided a game plan to ICRS to help increase their overall rankings and provide the best ROI possible.
Increase overall keyword rankings through implementation of keyword specific mapping of pages on the website
Updating the website template by removing items like internal scroll bars
Utilization of call tracking through specific phone numbers for specific campaigns
Creation of a Blog; Creation of Social Media platforms, like YouTube, FaceBook and Twitter
Introduction of a short form for quick contact
Utilization of Google Adwords PPC
The Result
Increased rankings on geo-targeted keywords, such as "Orange County Breast Augmentation"
Total Increase by 200% of number of keywords ranking on pages 1 and 2 in Google.
Viral video creation that produced thousands of hits
New website design to help increase conversion
Total number of links pointing to site increased by 500%
Archives: Design Showcase
The Client
Founded in 1984, Center for Car Donations is a vehicle donation processing center that is committed to helping charities nationwide with accepting vehicle donations and providing non-profits with the highest possible returns for such programs. The company will handle everything from start to finish, providing a level of service unmatched in the car donation business.
The Challenge
The Client came to SEOP with only one thing to accomplish: "I need to be on page one on search engines for organic search, because the competition is so fierce." The Client did not have strong web presence as compared to their competitors. They ranked at page 3 to 4 pages or worse for many targeted keywords. The Client wanted to focus on geo targeting for important keywords.
The Plan
Perform a thorough website analysis and recommended key changes to enhance SEO friendliness, including optimized onsite content, URL analysis, meta titles, meta tags, anchor link analysis, code cleanup and optimization, redirects, sitemaps, integrated 404 error pages, a 301 redirect and more
Produce optimized onsite content to support the website and blog
Focused on link building strategies to target nationwide niche market of charity organizations, including the whole range of content-rich, natural looking links that are craved by Google's algorithm.
Proactively created rich offsite content to drive brand, visibility, boost traffic and build authority.
The Result
52 short and long-tail targeted keywords on the 1st Page of Google – these are some of the most expensive PPC buys on the market, meaning that similar positioning through PPC would cost between $3,000 and $4600 a day. Reduced PPC cost, $100K+ projected PPC savings/year.
Archives: Design Showcase
The Client
Established in 2000, Hike Bike Kayak Sports, Inc. is the first and largest multi-sport company in La Jolla offering Adventure and Eco tours throughout San Diego and has a website dedicated to individuals, tourists and families seeking fun beyond laying in the sun. They offer an impressive Sea Caves Tour, Whale Watching tours, kayaks for fishing, and more!
The Challenge
Like many, The Client was struggling during the economic downturn and came to SEOP to focus their marketing towards their main service, kayaking. With strong competition in a fairly small market, HBK needed to reduce spending and reliance on pay per click and implement a strategy that will provide increased page rankings for targeted keywords, boost traffic, drive conversions and ultimately increased revenue. HBK needed to be on the 1st page of major search results and stay ahead of the competition.
The Plan
The Client has a great reputation as the "go to" place for adventure tours and kayaking, but SEOP's plan was to drive that reputation across the web by increasing their web presence, drive top rankings for targeted keywords, and deliver profitability through higher traffic gains and conversions by implementing these strategies:
Performed technical website analysis to recommend specific changes to be an SEO friendly website by improving onsite content, analyze URLs, website usability and conversion consultation, meta tags and titles, and some proprietary SEO "white hat" practices.
Implement an aggressive link building strategy that focuses on developing inbound links to reach ideal consumers, including a whole range of rich offsite content to increase inbound links, driving visibility and authority by Google. n Produce offsite content to inform Users and spiders about the site.
The Result
Through the development and utilization of the above strategy and additional items, the following goals were met:
144+ Keywords in 1st page of Google – these are broad keywords such as "fishing rentals" that attract millions of eyeballs every single month
Increase in Visibility and Traffic in spite of a very small marketing budget, optimized for ROI with limited resources- 144 words on the front page of Google add up to more than 100,000 unique searches per month. PPC cost for that same traffic would be in the tens of thousands of dollars.
Increased visibility in local and geo-targeted searches – most of The Clients' business is local, and it was a priority to come up highly in search results for local residents looking for outings. Client enjoys front page listings for organic search AND Google local, attracting a lot of local business.
– See more at: http://www.seop.com/seo/case-studies/#aztec-containers
Archives: Design Showcase
The Client
Established in 1969, Aztec Containers is Southern California's leading rental and sales company, specializing in large high-quality 14-gauge steel stationary containers, portable containers, and temporary offices.
The Challenge
Aztec Container came to SEOP seeking higher rankings for their targeted keyword phrases. They wanted to increase their authority and visibility with search engines, and become recognized as the worldwide leader in the container industry. They wanted to see an increase in qualified traffic to their site, and thereby increase the number of page impressions. This was expected to lead to a higher percentage of conversions and therefore, greater profits. The site needed to be properly themed and optimized for shipping container related keywords, and content to support said keywords was also required.
The Plan
At the inception of the campaign, Aztec Container's key indicator keyword phrases were at an average ranking of 12th, which is outside of Google's front page results. Today, the average position of those same keywords is 5.5, indicating a substantial success with getting key phrases into key positions.
Currently, Azteccontainer.com has front page rankings on Google for over 50 keyword phrases. This represents over a half million searches a month for the targeted keyword phrases, where the website comes up in the top 10 results- the front page- of Google. Similar positioning through PPC click buys would cost The Client between $240 and $410 per day between $7200 and $12,300 a month.
In addition, Aztec Container enjoys front page rankings for very competitive keyword phrases for 32 keyword phrases in Yahoo! and 44 phrases in Bing.
The Result
Properly redirect the site to the canonical domain so that both WWW and non-WWW versions of the site are seen as one by the spiders, increasing authority.
Updated key documents such as the robots file and XML sitemap to be properly formatted for ease of use, allowing the machines to crawl the site more quickly and index pages more effectively.
Produced original, keyword-laden and SEO optimized on-site content to differentiate pages, as all of the pages were effectively the same or 90% similar, at the beginning of the campaign.
Produced original, keyword-laden and SEO optimized off-site content to better represent the company on the Internet and procure quality, authoritative, relevant backlinks.
Installed a blog to the site to continue to expand the amount of relevant content- also produced keyword-rich and SEO optimized content for the said blog
Differentiated metadata on a per-page basis to maximize the number of keywords targeted.
Site-wide image optimization for SEO purposes.
Submission to multiple authoritative directories leading to increased visibility to the site, and increased authority due to highly targeted relevant backlinks.
Installed a custom 404 error page to keep visitors on the site in case of a mistyped URL.
Cleaned up the code to remove comments and white space, externalized JavaScript and performed other code optimization to allow for maximum crawl speed and subsequent spider authority.