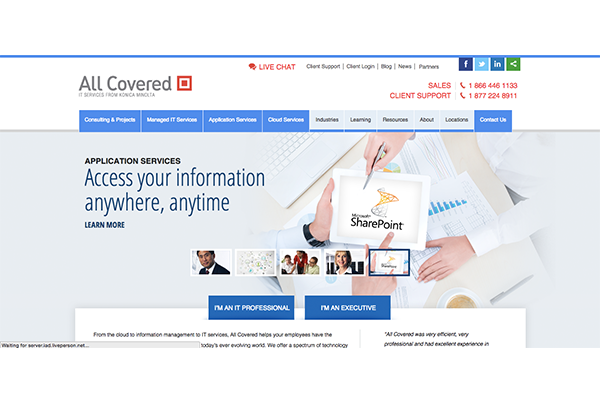 The Client
All Covered is the nation's leading provider of computer network services and technology solutions for small businesses—delivering cost effective IT services such as IT Security, VOIP, Mobile Technologies, IT Consulting and more.
The Challenge
Allcovered.com sought SEOP's help in improving rankings on the more competitive keywords terms and geo target specific cities for "IT support" and "IT services". These keywords have over 500 million search results each. When they came to SEOP, The Client ranked at position #44 for "IT support" and at #37 for "IT services."
The Plan
Increase overall keyword rankings through implementation of keyword specific mapping of pages on the website.
The Result
Through the development and utilization of the above strategy and additional items, the following goals were met:
Started with SEOP at position 44 for "IT support' now is page 1, position 1 out of 1.3 billion results.
"IT services" started at position 37, currently #3 out of 523 million results
All Covered is also on page one in all of their major cities geo-targeting the term "it support".
Started the campaign in Oct 08 with around 7k unique visitors and as of last month is up to 11k unique visitors.